So I've gotten started on my first 30 day challenge and I'm well underway. In my last post, I gave a list of action steps that I was going to follow to see this challenge through. I've pretty much completed all of the steps that I mentioned I was going to be doing in the first week.
What I've been doing is keeping a little journal (on physical paper) of all the steps I'm doing towards this challenge. I write down everything so that I can make sure I pass it all along to you without leaving anything out. So what will follow will be my journal entries for the last couple days. If you're following along, feel free to take the same action steps that I've taken over the last couple days.
May 7, 2012
I started out by making a few decisions. I had to first pick a niche to dive in to this project with and once I had my niche picked, I had to choose a pen name to use during this challenge. I don't want to reveal my niche or my pen name just yet because it could taint the results of this project. I do have a little bit of credibility and name recognition in this online world. I don't want my name to skew the results.
I will tell you that the niche I chose was online related. I am teaching how to do something online that a large amount of people want to learn. This type of training will make it easier to find people willing to do solo ads with me as most people that I follow that sell solo ads have lists that are targeted towards online training.
Once I chose my niche and my pen name, it was time to register a domain. I used NameCheap to buy domain name and I picked a good domain name geared towards my chosen niche. I linked my domain name to my hosting account. If you don't have a hosting account yet, I recommend HostGator. They are who I used for many many years and still use to this day on many of my sites.
Once I had my domain name and hosting, I installed WordPress on my domain name because I'm going to be creating my squeeze pages and thank you pages within WordPress. If you don't know how to install WordPress yet, I have free training videos at The WordPress Classroom.
To create killer looking squeeze pages, I installed a premium WordPress theme called OptimizePress. OptimizePress makes it really simple to create really beautiful looking squeeze pages. Since I haven't actually written my free report yet, this is as far as I got on creating the brand and the site.
Now that I had my niche and I knew what I was going to teach, I decided to create a little flowchart of the process I was going to teach in my free report. I used a free service called Gliffy to create an awesome looking flowchart of the process. Having this flowchart gives me a visual to use on my squeeze page that grabs attention and makes people want to learn more. I can also include this flowchart inside my free report to further solidify the concepts that I'll be teaching.
May 8, 2012
Today I spent a couple hours writing my free report on my topic. I had intended to write only 5-6 pages on this free report but actually became caught up in the process and ended up writing 11 pages. About 3 of those pages are graphics and the rest is teaching the process. More than 5 or 6 pages isn't really necessary, I just got caught up in my writing and decided to over-deliver a little. Most people can write whatever they feel best explains the concept they are trying to teach. Quality of Quantity is important here when creating your free report. Throughout my free report I used affiliate links any time I mentioned a resource that I recommend someone uses. I don't expect this to generate a lot of money but I expect to see affiliate commissions trickle in here and there from this.
I really struggled to get my head in the write place to begin writing. I kept telling myself, "I'm going to go eat lunch, then I'll start…". "I just need to grab some coffee, then I'll start.", "Let me just check my email first, then I'll get going."… etc, etc. etc. It really is difficult sometimes to get yourself to just start writing. But once I finally got that OpenOffice document open, I just couldn't stop writing. I got in to a zone and just hammered through until the report was perfect.
OpenOffice is a free word processor for both Windows and Mac and it works great for writing free reports. Once I was done with my report, I saved it as a PDF and uploaded it in to my new WordPress site.
Once I had my report finished, I could start building out my squeeze page. I logged in to WordPress and created a new page using the OptimizePress theme. I created my squeeze page using the Squeeze 8 template that comes with OptimizePress. I wrote my headline, my bullets, and added my little flowchart image to the page… The squeeze page ended up looking something like this… (Obviously I can't show it to you yet)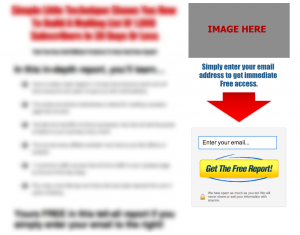 Once I had my squeeze page finished, I began working on the "Thank You" page and the "Download" page. The "Thank You" page is the page that they will see immediately after opting-in with their email. This is valuable real estate because everyone sees this whether they give a real email address or a bogus one. Therefore, I want to make sure I monetize it. I went to Clickbank and opened up a brand new account. This account has made zero dollars and you can see the account creation date is May 8th. (I blurred out the account name because it would give away my niche)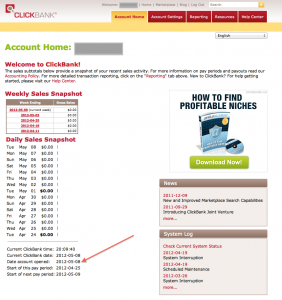 I browsed Clickbank and found a product that I've actually purchased in the past that is very relevant to my freebie and I added a little banner for it on my "Thank You" page. I then added some text to my "Thank You" page that says something along the lines of "Thanks so much for giving me your email, please check your email for details on how to access your free report".
After creating the "Thank You" page, I needed to create a download page. I created another page in WordPress, linked to the free report that I had uploaded earlier, and added another banner to this page for the affiliate program that I had chosen to promote.
That completed my page creation but I hadn't set up a list yet. I jumped over to Aweber and created a brand new fresh account just for the sake of creating my challenge. It's $1 for the first month so if the challenge doesn't work out, I'm only out a buck.
(List names are blurred to protect my niche)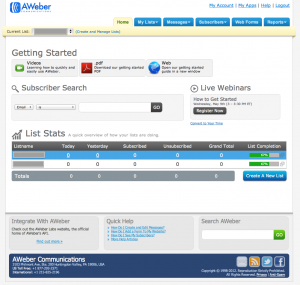 You'll notice that in my Aweber account, I have two lists created. I did this so that I can have one list for Pay-Per-View Traffic and one list for all other traffic sources. By doing this, I can track how well PPV traffic converts to other sources.
I then wrote my first followup email for both lists which links people back to my download page where they can access their free report. I created a webform as well. The web form has the "Thank You" page set to the "Thank You" page that I created. I then took the form code that Aweber gave me and pasted it in to my OptimizePress squeeze page in the section where it asks for opt-in form details.
That's it… That's everything I've done so far towards this project.
To recap, I've.
And that's everything. Taking action is the key to making these types of things work. As you can see, I've taken a lot of steps over the last couple days. Despite how many steps it looks like I've taken, I really only spent about 2 hours on this project each day. 2 hours on Monday and 2 hours on Tuesday.
Now that I've got this whole process in place, I'm going to go experiment with generating traffic to my new page!
Let the fun begin!
Please ask any clarifying questions or add comments below. I do my best to respond to everyone so that I can make sure you can follow along.
More Posts In This Series:
1. Add $1,000 Per Month To Your Business in 30 Days
2. One Thousand Email Subscribers in 30 Days
3. Creating A Free Report And A Simple Squeeze Page
4. Traffic Generation And Challenge Hiccups
5. Your Questions Answered And More Stats 
We will not share your email with anyone. We hate Spam!
This is to receive notifications of new blog posts and podcasts.