In an effort to add more transparency to my business, I have decided to begin releasing monthly income reports. I recently had the opportunity to do an amazing interview with Pat Flynn from The Smart Passive Income Blog. In this interview we discussed Pat's choice to share his income with the world and weighed some of the pros and cons. In the end, simply being transparent and honest with his readers has resulted in a much larger and loyal following. He went as far to say that sharing his income on his blog has been one of the main factors in creating the large personal brand that he's created. It's one of the keys to his success.
Personally, I've always been honest and I've never shared any information that I felt was misleading. However, I've never really shared the exact results that I'm achieving. I think it will be a good way to hold myself accountable and to constantly strive to grow each and every month. If my income goes down, I'll have to answer as to why. If it goes up, I'll let you know what I did. Sounds like a cool idea to me…
I'll admit, the idea of putting my earnings out there to the world is a bit new and scary to me. I don't want it to come across as bragging or egotistical. I just really liked the idea of full transparency and full accountability. This year I'm working on some pretty big projects which aim to prove that people can be successful online without resorting to hypy, crappy, BS. Transparency can sell and I aim to be as transparent as possible with all of my teaching from here on out. The podcast was the first step in my new direction… This is my next.
Some Quick Disclaimers:
In the spirit of full transparency… I must make a couple of notes about the following income reports.
The numbers that I'm sharing are before any refunds. Some of the products that were sold have 30-60 day refund periods. Seeing as I can't know who will and won't refund, refunds are not accounted for.
On the products that I created, the numbers are AFTER affiliates have been paid. These are the net that I collected after I made sure all affiliates received their cut.
Finally, there is some income that I am NOT including in this report. I have a second business with Josh Bartlett. Seeing as this business is a 50/50 partnership, I opted not to share income from this business due to the fact that it would also give insight in to some of Josh's earnings. Therefore, that aspect of my business will remain out of my reports.
This report is income from the products that I create and the income generating blogs that I have around the net.
I'll start by giving a breakdown of the income and then finish with some explanation as to why some of the numbers are the way they are.
The Income Report – January 2012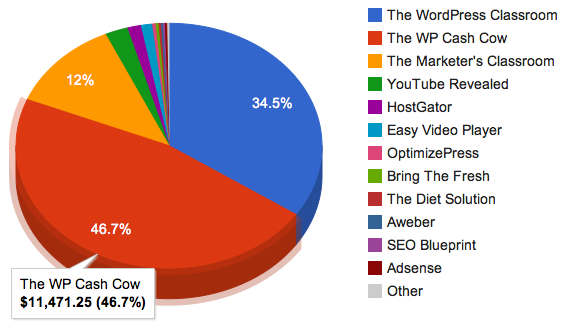 Income From Affiliate Products:
Total Income $24,577.38
Some Explanations
As you can see, my income reports probably look quite different from someone like Pat Flynn's. Since his business model is based solely around blogging and earning income from affiliate commissions, his biggest numbers come from affiliate products. My business model has been primarily from creating and selling my own products. Therefore, my products are my biggest income generators.
As you can see, however, I do make a good amount of money from affiliates and Adsense on my various blogs. Not only do I teach people about WordPress and how to make money with blogging, I AM actually out there blogging and making money with it myself.
You'll noticed that I earned affiliate commissions from The Diet Solution, The Truth About Abs, and Master Cleanse Secrets. You're right if you guessed that I'm not promoting those on this blog. Those are from two health and wellness blogs that I have floating around on the interwebs.
You probably already know what The WordPress Classroom is and realize that it (and my business with Josh) is my main business focus. However… This month, The WordPress Classroom was NOT my biggest income generator. My biggest income generator was The WP Cash Cow. I'm going to write a full blog post about exactly how I generated that income this month but for now, I'll tell you that it was a well timed Warrior Special Offer that just kind of went crazy.
The Marketer's Classroom is a product that I created with Joe Fier of Video Sales Lab. We intend to do a larger launch with it but, for now, we tested the concept as a WSO to see if there would be any takers. It worked out fairly well. It's basically a general marketing education program that takes people from creating their own products to selling them online and getting traffic to them. A soup to nuts, nothing left out, kind of product. We're going to do some more testing on it but that could grow to be a much larger business in the future.
You'll also notice that I only generated a little over $62 from Adsense this month… This is because I've actually been pulling Adsense down off most of my blogs in favor of promoting affiliate products. I've found that it's difficult to push both affiliate products and generate income from Adsense at the same time. It's better to keep a clear goal and a clear focus of what you want visitors to your site to do. In this case, affiliate products pay out better than Adsense so I'm testing in an attempt to bring my income per niche blog up a bit.
So that's it… That's my income report for January 2012. I'm hoping that this wasn't a bad idea to post this. I'd love to hear your thoughts and feedback. Is the income report a good idea? Are there things that I should clarify on the next one? Are there any topics you'd like to see me dive in to in a blog post or podcast? Give me all your feedback and questions and I'll do my best to comment back and give my feedback!
We will not share your email with anyone. We hate Spam!
This is to receive notifications of new blog posts and podcasts.