So it may seem that I'm, once again, behind schedule on my income reports. However, this time I actually did it on purpose. In fact, from now on, you can expect my income reports for the previous month to fall right about the 15th of the following month.
The reason for the delay in my income reports now is due to Amazon.com's reporting. They report my sales numbers on my Kindle books right around the 15th of every month for the previous month. Therefore, for me to include sales numbers from Amazon Kindle books, I need to create my report on or around the 15th…
And let me tell you… My book publishing business is really starting to pick up steam!
So here's what's going on with me…
Things haven't really slowed down recently in the personal life… We're still waiting for our new house to be built. I'm actually completely shocked at how fast these new houses can actually go up!
In fact, here's a picture taken around July 15th of last month of the new house's progress…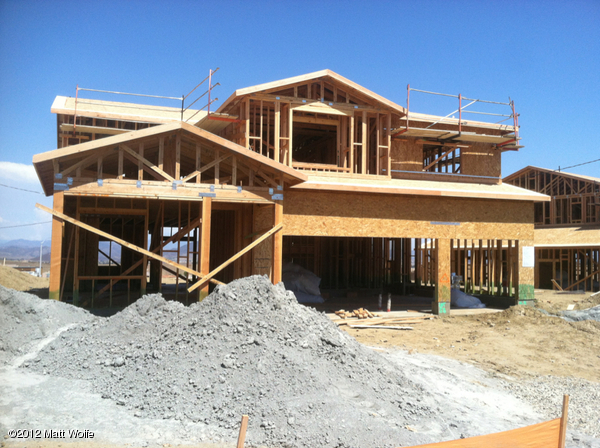 And here's a picture taken just a couple days ago of what the house looks like now… About 1 month apart…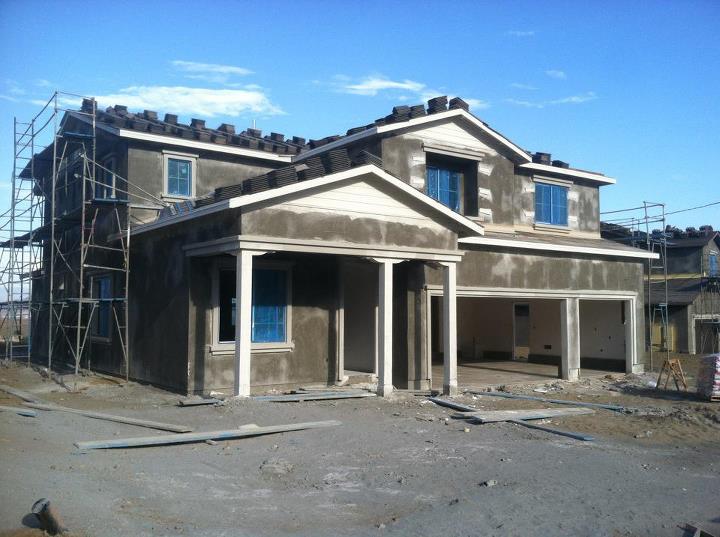 Pretty impressive progress!
We're not supposed to be in until the first week of October but, if things keep moving like they have been, we may close escrow a little ahead of schedule.
However, right now, we're staying at Alana's parent's house in their guest room. I love Alana's family but I can't wait to get back in to my own place. We're counting down the days.
Some Quick Disclaimers:
In the spirit of full transparency… I must make a couple of notes about the following income reports.
The numbers that I'm sharing are before any refunds. Some of the products that were sold have 30-60 day refund periods. Seeing as I can't know who will and won't refund, refunds are not accounted for.
On the products that I created, the numbers are AFTER affiliates have been paid. These are the net that I collected after I made sure all affiliates received their cut.
The links to the products that I mention in the report below are my affiliate links. So if you click a link to find out more about it and decide to purchase, I will, in most cases, receive a small commission on it. This, in no way, effects the cost of the products mentioned.
Finally, there is some income that I am NOT including in this report. I have a second business with Josh Bartlett called The Elite Marketing Foundation. Seeing as this business is a 50/50 partnership, I opted not to share income from this business due to the fact that it would also give insight in to some of Josh's earnings. Therefore, that aspect of my business will remain out of my reports. However, Josh and I have been starting to promote a program called Beyond The Hype together. I will be sharing MY earnings from this program. Josh and I don't always earn the same amount in this venture so my earnings really aren't a reflection of what Josh is earning.
This report is income from the products that I create, the income generating blogs that I have around the net, as well as from the book publishing I've begun doing. Next month, I'll begin sharing how I'm doing in the iPhone app world as well. I had no income from that business in July so you won't see anything this month.
I'll start by giving a breakdown of the income and then finish with some explanation as to why some of the numbers are the way they are.
The Income Report – July 2012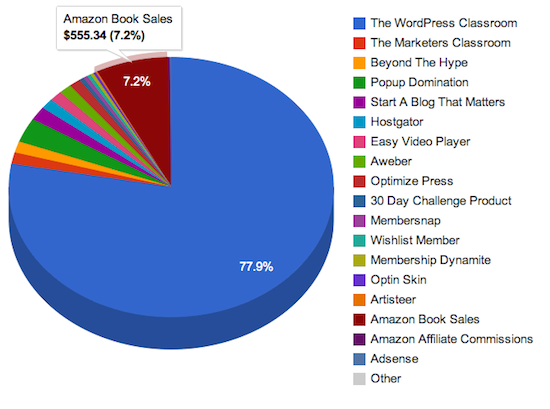 Income From Affiliate Products:
Income From Publishing Company

Kindle Book Sales $555.34
Amazon Affiliate Commissions $15.78
iBooks Book Sales $2.61
Total (Publishing) $573.73

Adsense $11.50
Total Income $7,727.30
Some Explanations
The first thing we notice when looking at these numbers is that WordPress Classroom sales are actually up a little bit over the previous month. This is because I sent out a couple extra promo emails about it in the month of July. When I mail more often about my program, my sales go up. If I don't mail the list about it often, sales drop. I'm just constantly experimenting, trying to find the balance where I'm mailing enough to keep sales moving up but not too much that people get annoyed and unsubscribe from my list. It's always a bit difficult making that determination. If you have any thoughts on this, feel free to chime in with a comment below this post.
It's difficult because I feel strongly about my program and I know that it really helps people. Therefore, I want to promote it as much as possible. However, I also feel strongly about keeping people happy on my list and making sure they get a lot of value, whether they actually joined my program or not. So it's a constant struggle for me with how often and how aggressively to the promote The WordPress Classroom.
You will also notice that Beyond The Hype has some small sales. The program, created by Josh Bartlett and myself, is not officially launched yet. However, we did do some testing with Facebook traffic and with mailing to some other niche lists that we have just to see if people were interested. This resulted in a small amount of sales. Now Josh and I are back to the planning phase. We are reworking the sales process a little bit and attempting to make the program an even bigger "no-brainer" for everyone interested. It's going to be an awesome program when it's finally ready for mass rollout.
The next thing we notice when looking at this report is that affiliate commissions are WAY down from the past couple of months. This is solely because I just didn't promote as many affiliate products in July. The same balance applies with promoting affiliate products as does promoting my own products. If I promote too much, it irritates people, if I promote to little, my commissions stay low and people don't get introduced to products that could potentially really help them or their business. I only promote stuff that I try myself and think offers a lot of value. If nothing comes along in a given month that I feel strong enough about, I just don't really promote anything. This effects my sales numbers for the month but I think the long term effect is that it helps solidify my goodwill with the mailing list.
Most of the affiliate sales that you do see for the month of July are from the banners that you see around this site, the links inside my income reports, and some affiliate links to recommended products inside The WordPress Classroom. So I always have a little trickle of affiliate sales from my sites. I just don't see huge affiliate numbers if I don't do big promos about a product to my list.
Finally… The thing that I'm still most excited about! My Amazon publishing business is moving along nicely. I've got several books published now in the health niche and the travel niche. Throughout July, I saw a steady increase in sales day after day. Amazon has an amazing "snowball" effect. If a book gets a few sales, it moves up the best sellers list in its category. The higher it moves up the list, the more people see it and the more sales tend to grow. All of the books that I published in July were books that were outsourced and they all continue to grow to this day.
I'm also experimenting with publishing some books on iBooks. I barely began testing this at the end of July so there wasn't much to show yet but I'm actually pretty impressed with the results so far.
What to expect coming up…
In August, Josh and I are planning on doing more promotion for Beyond The Hype. We're just waiting on some new designs to be finished and then we're really going to push ahead with this project.
The new WordPress Classroom design is only about a week away. The design is finished, the developer is plugging away to get everything working right, and when it's completely ready, all the existing members will be moved over to the new site to see what we've been working on. Once this happens, I anticipate doing a bit of extra promotion the list to get people excited about the project.
August has been exciting so far for the publishing business as well… I've actually published a fiction book that someone sold me the rights to… I basically put an ad on Craigslist, asking if anyone had old books that they wrote that they'd want to sell me the rights to. I got one response and the book actually turned out to be good. So I bought the rights to the book off the person for $250, did some minor editing, and published it to Amazon. Sales are still slow on that specific book but they are starting to pick up.
I've also published my own book about WordPress. I haven't promoted the book yet but it's live and available for Kindle right now. I'm also going to get a print version of the book made to sell physical copies as well. Both my book and the fiction book that I purchased weren't added to the Kindle store until August so you aren't seeing results from them in this income report just yet. However, I'll update you more about what I'm doing with Amazon in my next full blog post.
Finally, I've got my first app in the Apple app store! It was just approved a few days ago and already I'm starting to see a bit of ad revenue from it. It hasn't had a huge explosion of downloads just yet but, saying that, I really haven't done anything to promote it yet either. The game is called Paintball Drop! and is currently available for anyone with an iPhone, iPod touch, or iPad. If you do decide to download it, I'd love a review.

Anyway… That's what's been going on for the last several weeks and that's my latest progress report.
Please leave comments below. I'd love to hear your thoughts about frequency of email promotion, book publishing, and app development. I talked about a lot in this post. Please share your feedback.
Bonus: Special Contest
I've decided I'm going to "gift" the Kindle version of my book to a few blog readers.
Here's what you've got to do…
a) Make sure you follow me on Facebook (I'll announce through there)
b) Promise to leave me an Amazon review.
c) Comment below about your thoughts on email marketing… (What's too much, what's not enough, etc…)
That's all. I'll pick several people and gift the book through Amazon so that you can read it on your Kindle, iPad, iPhone, Mac, PC, or whatever else you use to read Kindle books.
Looking forward to reading your responses! You'll help clarify things for me as well as anyone else struggling with questions about how often to email.
We will not share your email with anyone. We hate Spam!
This is to receive notifications of new blog posts and podcasts.