I know I've really lagged on posting this final update to the 30 day challenge that I presented to myself. Unfortunately, personal life got in the way and made it very difficult to have much focused time at my computer. My wife and I are actually in the process of selling our current house and purchasing a new one. During this process, I'm constantly forced to leave the house so the various real estate agents can show the house. Never knowing when they're going to be coming by has made it extremely difficult to really get dug in to a post.
To top that off, the new house that we're purchasing is about an hour away from our current house. Driving up there several times per week to meet with realtors and lenders haven't made things much easier either.
So I really do apologize to all of you who have gotten sucked in to the challenge only to have me go silent for several weeks. It wasn't my intention to do that…
Now… On to the results.
As you can probably guess from the title of this post, the results were less than stellar. I came really close to proving one theory correctly but nowhere near proving another.
To give you the synopsis, I've proven to myself that I can easily build a list close to 1,000 subscribers in 30 days. That's actually pretty dang easy if you're willing to spend some money to build that list. On the other hand, my attempts to monetize this list failed miserably. My efforts resulted in about $50 in sales so far.
Some of this failure to generate a lot of cash with this campaign may be due to losing some focus due to housing issues. However, I think the bigger issue comes from other issues…
What I learned…
1. All traffic sources are not created equal. I think the largest issue that I had was that the majority of my leads were created through solo ads from Safe Swaps. It's now my belief that leads obtained from Safe Swaps solo ads are of poor quality. People on that site tend to build their lists through adswaps. To do an adswap people need to give away free products. Therefore most of the leads generate through solo ads from that site are people that are only looking for free products and are still unwilling to pay for information products.
I think, however, that even freebie leads from places like Safe Swaps can be warmed up and eventually turned in to buyer traffic but it will take some effort and some really good sales skills to eventually turn them.
2. Affiliate sales may not be the best way to start. With this challenge, I offered a free report to build the list and then immediately tried to sell an affiliate product. I now believe that it's much easier to sell affiliate products once you've built your own personal brand a little bit. People need to know, like, and trust YOU before they're willing to take recommendations on other products from you.
I think, in the future, the way to go would be to immediately attempt to upsell them on a product that I made instead of an affiliate product. This way people are purchasing something that's highly relevant to what they opted-in for and they are getting an opportunity to get to know you a little better (making them more likely to take your recommendations in future).
3. Test more than one offer after the opt-in. One thing that I really screwed up on with this campaign is that I promoted one affiliate product immediately after the opt-in. If I was smart I would have continually split-tested different affiliate offers until I found one that actually made some sales for me. Instead, like an idiot, I kept holding out think that eventually the offer that I was promoting would start making sales… (It didn't)
The results…
I ended up getting a total of 906 subscribers over the 30 day period.

This isn't too bad of a result, seeing as I landed about 94 shy of my 30 day goal. It's not the number I wanted but I got pretty close. Unfortunately, I just couldn't monetize this list the way I had hoped. It was pretty dang unresponsive to my email blasts (as you can see from my open and click rates)…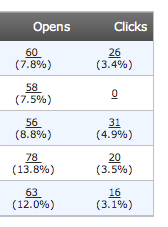 Breakdown:
Total Opt-ins: 906
PPV Cost (TrafficVance): $313.53
PPC Cost (7Search): $34.95 (Paused Campaign)
Solo-Ads Cost: $572.06 (7 solo ads – 2,000 Clicks promised)
Total Cost: $920.54
Current cost per Opt-in: $1.02
As you can see, I got my cost-per-opt-in right where I wanted it to be. I was willing to pay about $1.00 per opt-in assuming that I could make $1.00 per month per opt-in. I've yet to see a return on investment but I'm not going to give up…
Next Steps:
I'm not giving up on making this profitable. I will get a return on investment out of this. Unfortunately, I couldn't do it within the first 30 days but I will make sure I make my money back on it.
What I'm going to do next is build a mini-course with videos on how to do the stuff I taught in the free report I gave out. I'll sell these videos for something inexpensive like $7-$17 immediately after they opt-in to try to build a buyers list. I'll then continue to test mailing about different affiliate offers to the same list until some of them are successful.
I'll continue to make periodic updates about what I'm seeing with this particular project so that I can prove that I will make it profitable.
I'm also moving in to a couple other side-projects. I'm experimenting with creating iPhone Apps as well as publishing books through Amazon and the AppStore. I'll post more about how I'm doing these things in a later post. I'm already seeing a bit of income trickling in from my Amazon book sales so I'll definitely be making a post about this in the next few weeks or so.
Feel free to leave any feedback or questions below. I'll make sure to continue to keep you updated because I fully intend to make this project add, at least, $1,000 per month to my business.
We will not share your email with anyone. We hate Spam!
This is to receive notifications of new blog posts and podcasts.